Thanks for the kind words, guys; I appreciate it. Everything's coming along swimmingly. I'll rabbit on about that in a minute, but first it's time for a new screenshot: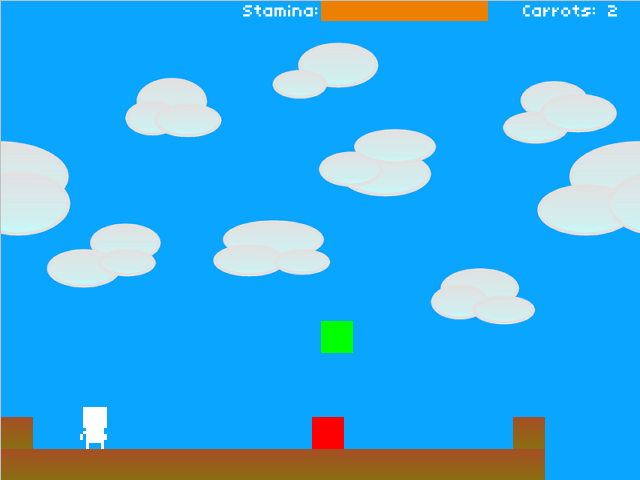 You can see today's big change right off: I've added a
green
square! My graphical prowess truly knows no bounds. The green square is also a pickup; it's a carrot, as evidenced by the counter in the upper-right. I've also made the player sprite a bit larger, and jiggered about with the hitbox to get the collisions a bit more accurate. Other minor changes: adjusted the positioning on the attack sprite so it's not projected out in front of the player's face. It now looks like it's in a more appropriate location.
I did a lot of work on the camera as well. I've solved the riddle of how to make the camera scroll only to the right, and I've even successfully bounded the player's movement so you can't run off the screen to the left either. Also I've locked the stamina bar and carrot tally to the camera instead of to the player, so they don't shake around disconcertingly when you change direction anymore.
Music is implemented, though the music itself is still in a very early state. But it plays, and it loops. Sound effects are still missing; hope to get to those in the next few days.
I've also made a bunch of changes and additions that will remain secrets for the time being; the code is now almost complete, barring minor tweaks and accommodation for the actual sprites. I still need to get a proper level hashed out and get the artwork done, but I'd say at this point I'm on track to have the thing done by the end of the month.