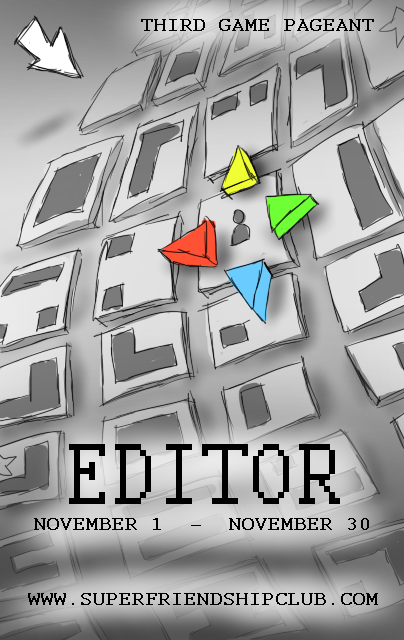 Make a game with a level editor.
Make the game good. Make the level editing method usable. Try to make the levels easy to share.
Starts on November 1st, finishes on November 30th.
A level needn't be a level, a game needn't be a game, an editor needn't be an editor, and sharing can take many different forms.
In terms of ease of creation and sharing, for simple environments, web-games are best suited (though you can reasonably trust that there'll be people around who'll try to make - I strongly recommend checking out
Jonathan Whiting's Level Design Workship
series of editors as an example of a very simple way to make an editor with easily shareable levels (without requiring crazy storage things). So, it may (or may not) be in your interest to learn some new tech. No biggie.
If you haven't made games before, and aren't sure where to start on the technical side of things, just ask : there're plenty of people here who can give guidance.
When you do decide to post about your game, say it's called "Cats Under Fire", post a thread about it with the title
"Editor Pageant - Cats Under Fire"
. When you've finished it, edit the first post to give it a new title - something like
"Editor Pageant - Cats Under Fire [ DONE ]"
.
If it's possible for you to make a downloadable version of your game, please make it available - I try to do a package of all participating games for archival purposes.
Any questions, please just ask below : )
(poster courtesy of sophie houlden)